Home
Starband
Residential
Telecommuter
Small Office
Starband Pics
Contact Us
Cable Connections

Need Help?
Click Here!
Already have Starband equipment and need service? Click here.

With the StarBand antenna, you can receive two great services -- StarBand high-speed Internet access and DISH Network™ TV programming.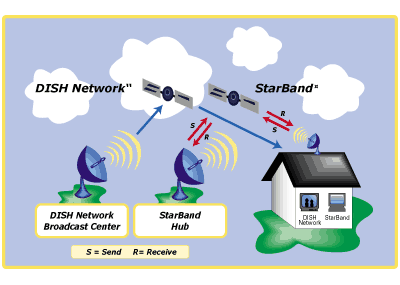 The StarBand™ system consists of a 24" x 36" satellite dish mounted on or near your home or office (1.2 meter satellite dish in Alaska, Hawaii, Puerto Rico and the U.S. Virgin Islands). The dish must have a clear unobstructed view of one our satellites located 22,300 miles up over the Equator in the southern sky. Two standard coaxial cables connect the satellite dish antenna to the StarBand satellite modem connected to your computer via an Ethernet connection. StarBand sends requests to the Internet and receives Internet content via satellite. The satellite communicates with the StarBand hub facility, which has a direct connection to the Internet.
In addition to the two-way satellite Internet service, the StarBand system can also be configured to receive satellite television service from EchoStar's DISH Network (additional charges apply; not available in Alaska, Hawaii, Puerto Rico, or U.S. Virgin Islands).
No telephone connection, dial-up account or other Internet service providers are needed. StarBand does it all for you.