Home
Starband
PRO
Ultimate
Starband Pics
Contact Us
Cable Connections

Need Help?
Click Here!
Already have Starband equipment and need service? Click here.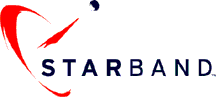 High-Speed Internet via Satellite.
Always On, Satellite Broadband Internet Access - Faster and More Affordable Than Ever!
The new StarBand Nova Series provides cost-effective satellite connectivity for residential and small office/home office (SOHO) customers nationwide. StarBand Nova services use VSAT technology a generation ahead of the previous 480 series to deliver faster speeds and improved service quality for reduced prices. Engineered using Spacenet's experience providing mission-critical enterprise and government networks, the StarBand Nova services are aimed at users looking for higher reliability, professional-grade broadband Internet connection that is still affordable for home and small office users.
Kentucky Starband and kentuckystarband.com is owned
and operated by Cable Connections - Steve Hosner
All Starband Trademarks and logos are owned by Spacenet
This site is created and maintained by Cable Connections - Steve Hosner
For any issues with this site, please contact via email